« All Events - View as to month
4th International Spring School / THE SCIENCE AND PRACTICE OF VENOUS THROMBOEMBOLISM 2019
Tuesday, 7 May 2019

-

Sunday, 12 May 2019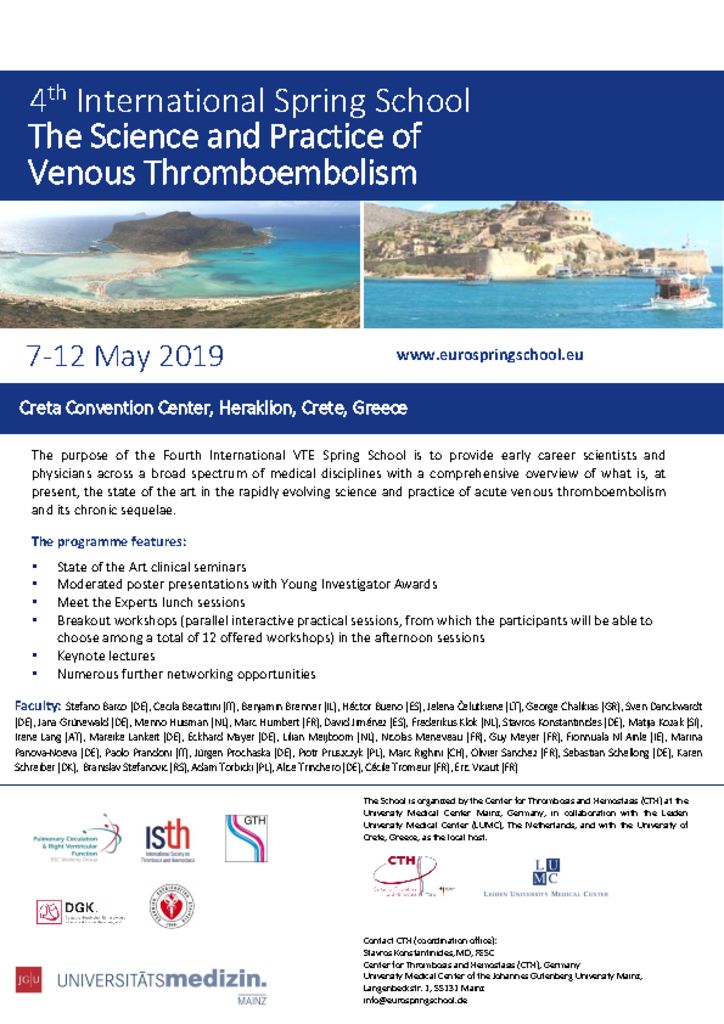 Official site: www.eurospringschool.eu


4th International Spring School
Kriti 2019 7-12 May, GreeceTHE SCIENCE AND PRACTICE OF VENOUS THROMBOEMBOLISM 2019

Prof. Dr. M.V. Huisman
LUMC, afdeling Interne Geneeskunde – Trombose en Hemostase
Leiden, 13-05-2019
Concerning: VTE Spring School Kalimera Kriti 2019
To whom it may concern
I wish to express my sincere thanks for the excellent support we have received during the Spring School in Crete from the Mastermind Group colleagues.
The management has been prolific in arranging travel and stay for the attendees as well as faculty
Kind regards,
Professor Menno Huisman
Welcome
Dear Colleagues,
It is our great pleasure to invite you to the Fourth International Spring School on THE SCIENCE AND PRACTICE OF VENOUS
THROMBOEMBOLISM. The biannual VTE School is organised by the Center for Thrombosis and Hemostasis (CTH) at the University
Medical Center Mainz, Germany, in collaboration with the Leiden University Medical Center (LUMC), The Netherlands, and it is
endorsed by international and European scientific societies.
Venous thromboembolism (VTE) is the third most frequent acute cardiovascular disease, but also a field in which translational and
clinical research has recently revolutionized clinical practice and improved patient outcomes. Based on the support and the
feedback that we received from you in our past Spring Schools, we are taking every care to ensure that the programme of the
Fourth Spring School 2019 will include the most relevant and contemporary scientific topics related to thrombosis and VTE,
while promoting active interactions and scientific networking.
The programme will feature:
• State of the Art clinical seminars
• Moderated poster presentations
• Young Investigator Awards
• Meet the Experts lunch sessions
• Breakout workshops in the afternoon sessions
• Keynote lectures in the evening sessions
• Numerous further networking opportunities.
The purpose of the International VTE Spring School is to provide interested early career scientists and physicians across a broad
spectrum of medical disciplines with a comprehensive overview of what is, at present, the state of the art in the rapidly evolving
science and practice of VTE and its chronic sequelae. The participants will have the opportunity to benefit from the
interactive seminars and workshops to be moderated by some of the world's most renowned experts and leaders in the field. Last
but not least, the Spring School will offer a unique opportunity for discussing future areas of research and collaboration projects.
We very much hope that you will join us for this exciting educational event in May 2019!
With very best regards
| | | |
| --- | --- | --- |
| Stavros V. Konstantinides, MD | | Menno Huisman, MD |