« All Events - View as to month
5ο Διεθνές Συμπόσιο Καρδιαγγειακές Παθήσεις και Νεφρική Δυσλειτουργία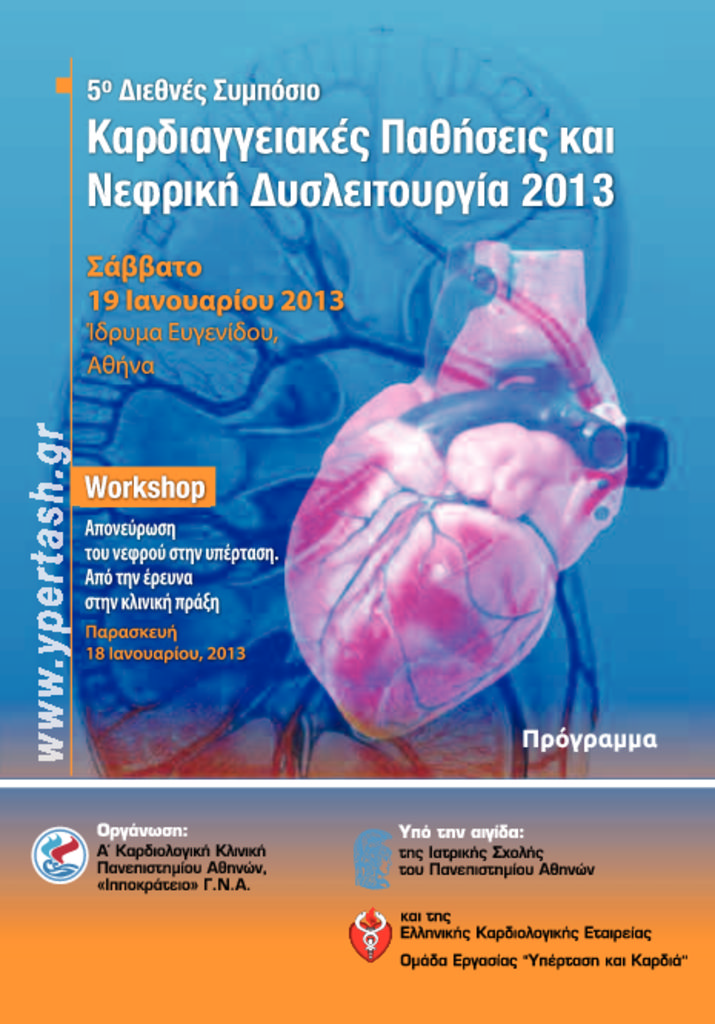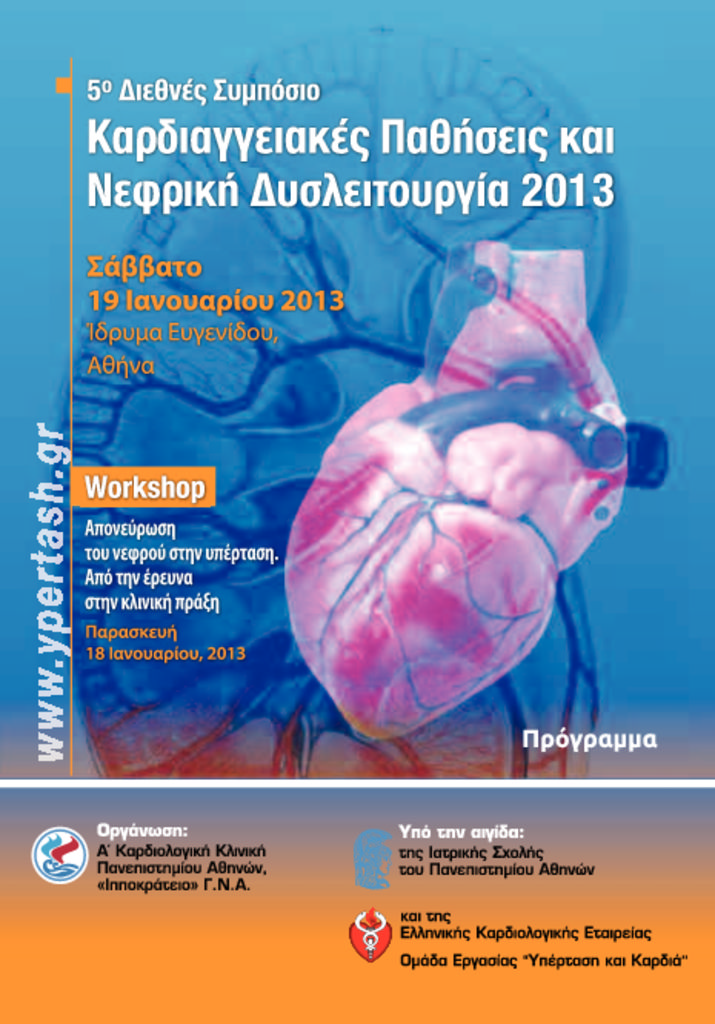 Αγαπητοί Συνάδελφοι,
Σας καλωσορίζω στο 5ο Διεθνές Συμπόσιο «Καρδιαγγειακές Παθήσεις και
Νεφρική Δυσλειτουργία 2013», το οποίο πραγματοποιείται στο Ίδρυμα
Ευγενίδου στην Αθήνα, στις 19 Ιανουαρίου 2013 και διοργανώνεται από την
Α ́ Καρδιολογική Κλινική του Πανεπιστημίου Αθηνών.
Το Συμπόσιο «Καρδιαγγειακές Παθήσεις και Νεφρική Δυσλειτουργία 2013» είναι
μια προσπάθεια περαιτέρω συνεργασίας και ανταλλαγής γνώσεων και
δεδομένων επί της στενής παθοφυσιολογικής και κλινικής συσχέτισης μεταξύ
νεφρών, καρδιάς και αγγείων.
Κατά τη διάρκεια του Συμποσίου, θα έχουμε τη δυνατότητα να
παρακολουθήσουμε Συνεδρίες με συμμετοχή ειδικών από όλο τον κόσμο,
πρωτοπόρων της έρευνας στον τομέα τους. Μέσω Στρογγυλών Τραπεζών και
Αντιπαραθέσεων, το Επιστημονικό Πρόγραμμα του Συμποσίου παρέχει
κατοχυρωμένη γνώση, αλλά και νέες προσεγγίσεις στη μελέτη και θεραπεία των
ασθενών με νεφρική δυσλειτουργία και καρδιαγγειακή νόσο. Στόχος του
Συμποσίου είναι η πληροφόρηση σε επίπεδο τόσο καθημερινής κλινικής πράξης,
όσο και προωθημένης έρευνας.
Επιπρόσθετα, την παραμονή του Συμποσίου, Παρασκευή 18 Ιανουαρίου 2013
από τις 17:00 έως στις 20:00, διοργανώνεται μια ενδιαφέρουσα προσυνεδριακή
εκδήλωση με επίκαιρη θεματολογία εστιαζόμενη στην συμπαθητική
απονεύρωση του νεφρού.
Η παρουσία και ενεργός συμμετοχή σας στις εργασίες του Συμποσίου θα
ικανοποιήσει τις προσδοκίες μας και θα συμβάλλει στην επιτυχία του.
Με συναδελφικούς χαιρετισμούς,
Χριστόδουλος Στεφανάδης
Καθηγητής, Διευθυντής Α` Καρδιολογικής Κλινικής
Πανεπιστημίου Αθηνών, Γ.Ν.A. «Ιπποκράτειο»
---
Dear Colleagues,
Icordially welcome you to the 5th International Symposium on "Cardiovascular
Disease and Renal Dysfunction 2013", which is held in Athens, at the
Evgenidion Foundation, on January 19, 2013, and is organized by the 1st
Department of Cardiology of the Athens University School of Medicine.
The Symposium "Cardiovascular Disease and Renal Dysfunction 2013" is an effort
to enhance the interchange of emerging new information on pathophysiological
and clinical interrelationships between kidneys, the heart and the vasculature.
During the Symposium, we will have the opportunity to attend sessions with the
participation of world experts, who are pioneers in the field of cardiovascular
research. Through Round Table discussions and Debates, the Symposium offers
an outstanding Scientific Program, featuring both state-of-the-art knowledge
and innovative approaches of the patient with renal impairment and
cardiovascular disease.
In addition, a very interesting workshop will be organized the day before the
Symposium, on Friday, January 18, 2013 from 17:00 to 20:00. The workshop
will focus on RSD (Renal Sympathetic Denervation) in hypertension.
We anticipate that this Symposium will be valuable in terms of both everyday
clinical practice and advanced research.
We look forward to providing you with the famous Greek hospitality, in what
promises to be an exciting scientific event.
Sincerely,
Christodoulos Stefanadis
Professor of Cardiology
Director, 1st Department of Cardiology,
Athens University Medical School
Hippokration Hospital, Athens, Greece